Corporate
Adrad is an Australian owned family company specialising in the manufacture, importation and distribution of quality radiators, automotive air-conditioning parts and other heat exchange products.
The range of products available in copper, brass, aluminium and steel is the most extensive in Australia and New Zealand and Adrad provides excellence in service and delivery of product through its extensive network of warehouses throughout Australia and New Zealand.
Our products are diverse and meet the needs of automobiles, light trucks and commercial vehicles, heavy on highway vehicles, heavy off-highway vehicles, customised aluminium products for racing and performance vehicles and heat exchange products suitable for power generation applications.
Adrad has been manufacturing radiators in Australia since 1985 - the quality of our manufactured range of product and service remains as the industry benchmark. The Adrad team are committed to continued product development, innovation and research using the latest equipment and software available.
Adrad's mission statement was determined in the early years and we remain true to this driving principle today:
"To have satisfied customers, served by happy competent employees, working for a progressive company"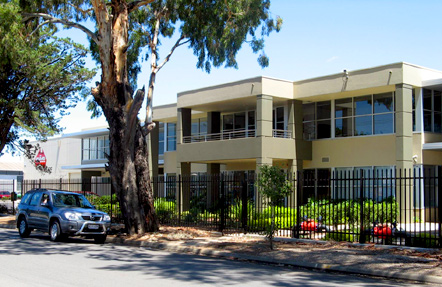 Adrad Head Office, South Australia
We believe that this statement encapsulates the essence of who Adrad is and what guides our approach to doing business.
At Adrad we stand behind our products - products that have stood the test of time.
As manufacturers of product we understand the technical intricacies of heat exchange products and have the technical knowledge, skills and capability to properly analyse, design and construct superior heat exchange solutions.