Air Conditioning
ADAIR Auto Air Products is a leading range of Aftermarket Automotive and Industrial Air conditioning components.
The range covers 12 main product groups:
Condensers, Compressors, Electric Fans, Evaporators, Fittings, Heaters, O-Rings, Pressure Switches, Receiver Driers, Refrigerant, and TX Valves.
The ADAIR Range

The ADAIR range is constantly monitored to ensure that the products supplied are of the highest quality. New ADAIR products are also under investigation and development to expand our product offering. With over 3,500 lines of air conditioning products held in Adrad's extensive national network of warehouses, the availability of product when and where required by customers is maximised.
Products include OE brands such as DENSO, Sanden, Delphi, Behr Hella, Unicla, KOYOAIR, Red Dot, Maradyne Fans, Javac and Air International to complement the extensive range of ADAIR quality components. With an extensive range of tools, equipment and refrigerant, ADAIR offers a comprehensive range of automotive a/c products.

ADAIR also offers an extensive and growing range of Industrial a/c components to suit on-highway, off-highway, agriculture and mining applications. These products are displayed in the latest ADAIR parts catalogue and include Condensers, Compressors, TX Valves, Driers and Evaporators along with an extensive offering of Red Dot rooftop units and components.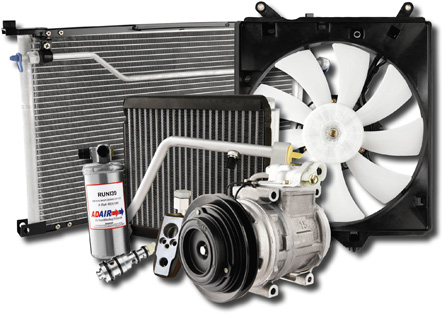 ADAIR Training Courses
Training courses are regularly conducted by ADAIR so as to keep workshops updated with the latest in automotive a/c practices and to assist workshop staff in becoming qualified a/c technicians. Courses cover Electrical, A/C Servicing, Equipment Operation & Maintenance, Diagnostics, Basic A/C Training and Refrigerant Handling. These courses are conducted at various locations and times throughout the year. Contact ADAIR for further details.
ADAIR Catalogue
ADAIR's new catalogue is formatted in a new, easy to read make/model layout. This catalogue conveniently lists all the key components for a particular vehicle on the same page. The ADAIR catalogue also contains very helpful technical sections - specifically created for quick referencing in the workshop. Customers familiar with ADAIR's huge range will appreciate the handy fast-find index as a real time saver.
The ADAIR innovative catalogue layout is just another example of Adrad's commitment to innovation and continuous improvement to service our customers at the highest level.
Please contact your local Adrad office to obtain your copy of the new ADAIR catalogue.